Just in the past 2017, what happened in Ningxia Goji Berry leadingbrand----Bairuiyuan, what good news harvested, and will lead the Ningxia goji berryindustry to a new level. Through the 19 memorabilia of 2017, we challenge to 2018 new heights.
01[Keywords] local standards introduced
On February 12, 2017, organizedby Ningxia Food Testing Center, Bairuiyuan as Ningxia Goji Berry food safetylocal standard jury members involved in the formulation of "food safetylocal standard goji berry" on June 1, 2017 came into effect.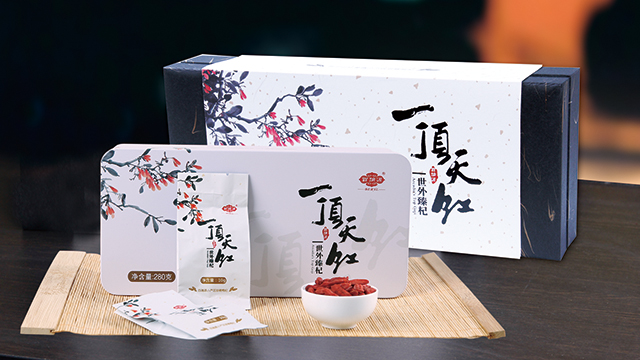 02 [Keywords] China Agricultural Innovation Brand Award
On February 26, 2017 China's Edible Homer, Farmer and MerchantAnnual Meeting ("China's 3 Biggest Annual Meeting"), Bairuiyuan wonthe first "China Agricultural Innovation Brand Award 2017" in theChinese goji berry industry.

03 [Keywords] golden calf award
Since March 4, 2017, Bairuiyuan together with the 26th Times Golden CalfAward started from Tsinghua University, one after another into 22 colleges anduniversities in Hubei, Zhejiang, Liaoning, Shaanxi, Macao and Hong Kong,Students share the "Bairuiyuan goji berry, good goji berry can be a littlemore expensive" brand story.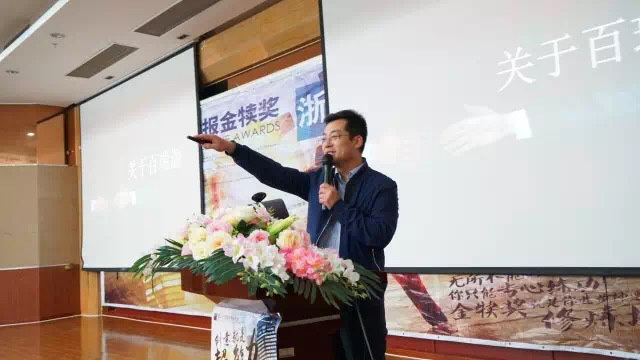 04 [Keywords] Chinese goji berry industry leading brand
On March 15, 2017, on the day of Consumer Rights and Interests, Bairuiyuanbecame the only company in Ningxia goji berry industry to win the title of"Leading Brand in Chinese goji berry Industry" and won the honor offour sessions.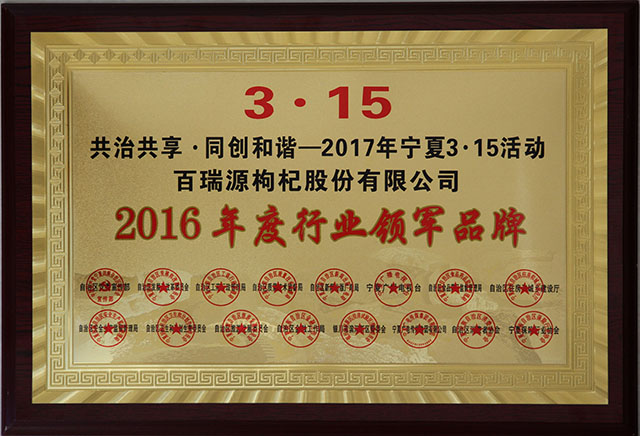 05 [Keywords] Autonomous Region Labor Day Awards
On April 25, 2017, in Ningxia Hui Autonomous Region celebrating MayDay International Labor Day Awards, Chairman Xian Hui presented"Autonomous May 1 Labor Certificates" to Mr. Hao Xiangfeng, Chairmanof Bairuiyuan.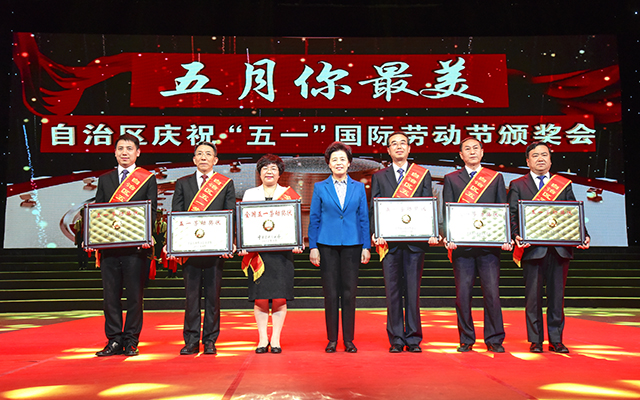 06 [Keywords] "Excellent Talents" honorary title
On May 18, 2017, the party committee and government of theautonomous region decided to award honorary titles such as "Excellent Talents" to 19 gay Autonomous Regionsincluding Mr. Hao Xiangfeng, Chairman of Bairuiyuan.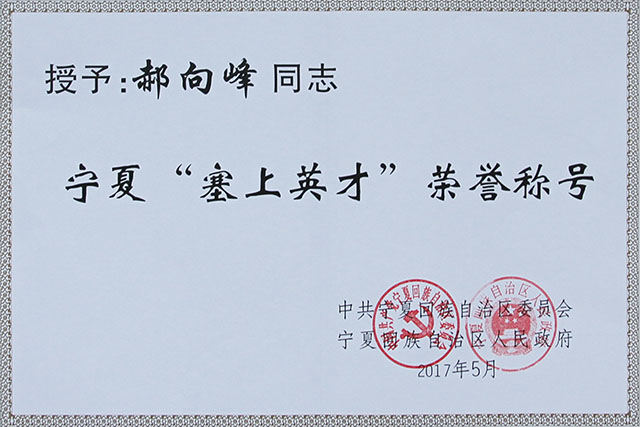 07 [Keywords] Bairuiyuan hope primary schools listed
On June 1, 2017, in order to help the immigrant village get out ofpoverty as soon as possible, Bairuiyuan United Nations Yuan Securities listedon the "Bairuiyuan Hope Primary School" at Dahe Central PrimarySchool, Dahe Township, Hongsipu District, Ningxia. On the same day, [Bairuiyuanlove shack"listed in Zhongning County.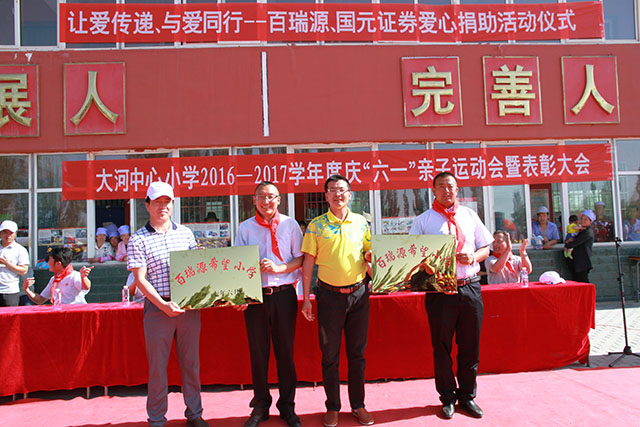 08 [Keywords] national mainstream media interview group
On July 20, 2017, the People's Daily, the Central BroadcastingNetwork and other mainstream media interviews went to Bairuiyuan to report onthe "Five in One" whole-industry chain model of Bairuiyuan and drivecases of farmers planting wolfberry to get rid of poverty.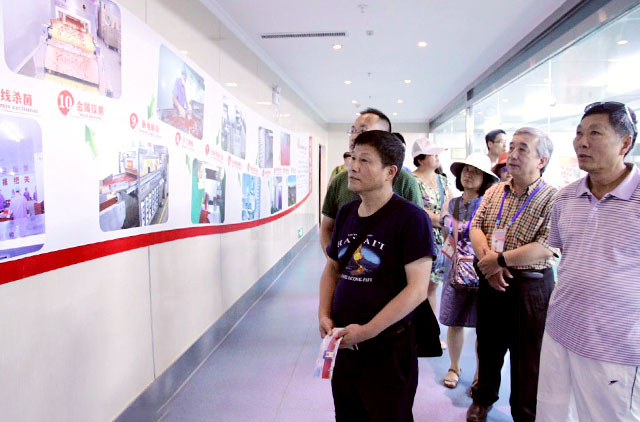 09 [Keywords]Ningxia well-known agricultural enterprises brand
August 22, 2017, Ningxia Hui Autonomous Regionfrom the Department of Agriculture and Animal Husbandry to the Bairuiyuan GouqiCorp awarded "Ningxia well-known agricultural enterprises brand."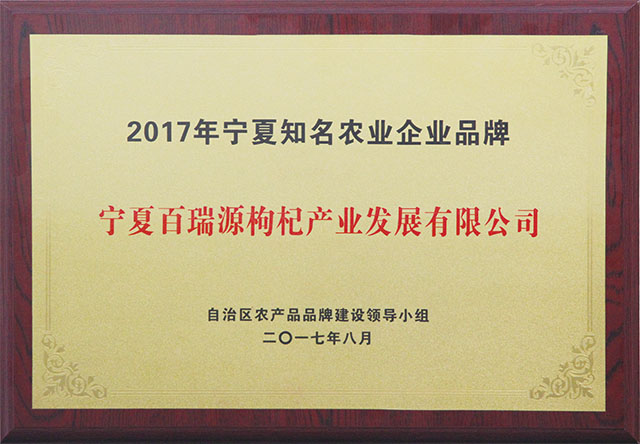 10 [Keywords]Ningxia brand-name products
On the afternoon of August 28,2017, Wang Heshan, Vice Chairman of the Autonomous Region Government, presented"Ningxia Top Brand Products" to Bairuiyuan on the "2017 QualityWork Conference".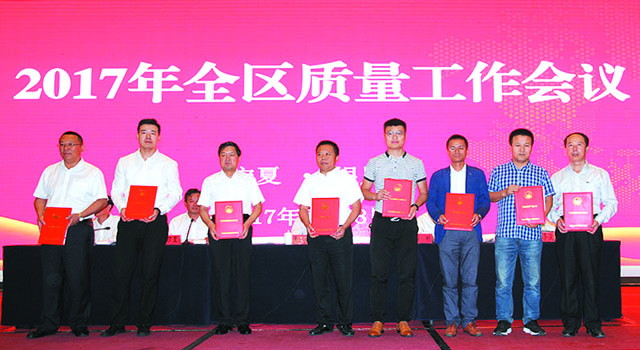 11 [Keywords] Bairuiyuan Goji Berry Appeared on 2017 Bricks Leaders Banquet
On September 4, 2017, at the ninthbanquet hosted by the BRICS leaders in Xiamen, Bai ruiyuan goji berry becamethe only Chinese goji berry brand in the Chinese goji berry industry to honorthe banquet table. On October 16, the BRICS leader Xiamen Meeting Group sent aletter of thanks to Bairuiyuan for "extraordinary significance."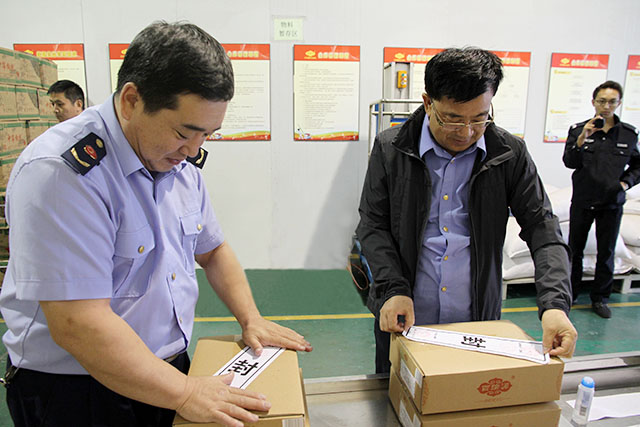 12 [Keywords]The fifteenth session of the Agricultural Products Gold Award
On February 12, 2017, organizedby Ningxia Food Testing Center, Bairuiyuan as Ningxia goji berry food safetylocal standard jury members involved in the formulation of "food safetylocal standard goji berry" on June 1, 2017 came into effect.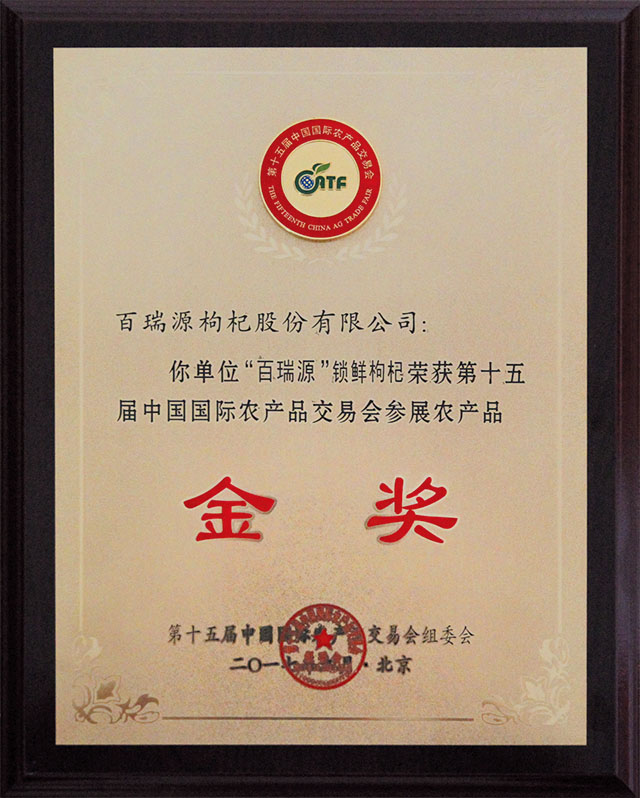 13 [Keywords] golden wheat quality award
On September 25, 2017, on "Oscars" of the E-commerce Industry----golden wheat quality award ceremony, Bairuiyuan won the"golden wheat quality award" medicine and health products categoryawards.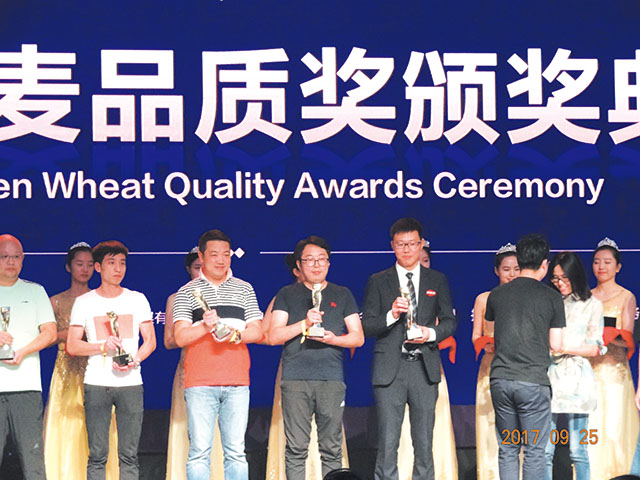 14 [Keywords]"sing to you" about goji berry story
From October 18 to October 20,2017, Mr. Hao Xiangfeng, Chairman of Bairuiyuan, and Ms. Hao Xiaoqin, GeneralManager, were invited to go to "CCTV4" for "Farmers to Get Outof Poverty" Record the scene, tell a story behind a good goji berry.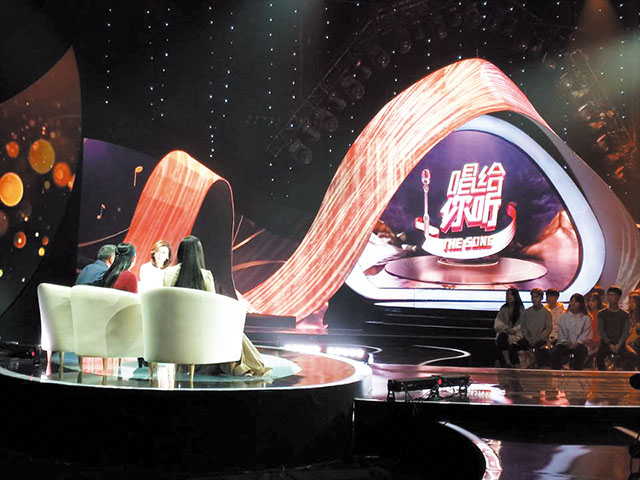 15 [Keywords] Shi Taifeng visited Bairuiyuan Gouqi Corp.
On November 23, 2017, Shi Taifeng, secretary of the party committeeand chairman of the NPC Standing Committee of Ningxia Hui Autonomous Region, visitedand investigated the achievements of Bairuiyuan, accompanied by Jiang Zhigang,deputy secretary of the Party Committee of the autonomous region, ZhangChaochao, standing member of the Party Committee and executive vice chairman ofthe autonomous region, accompanied by Ji Zheng, Co., Ltd.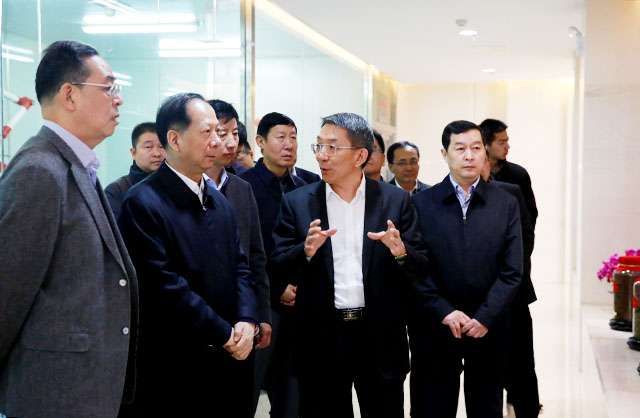 16 [Keywords] dominate the sales champion of goji berry
On November 11st, 2017, Bairuiyuan goji berrysales 16 million RMB, once again become the first of the entire network salesof Chinese goji berry brand.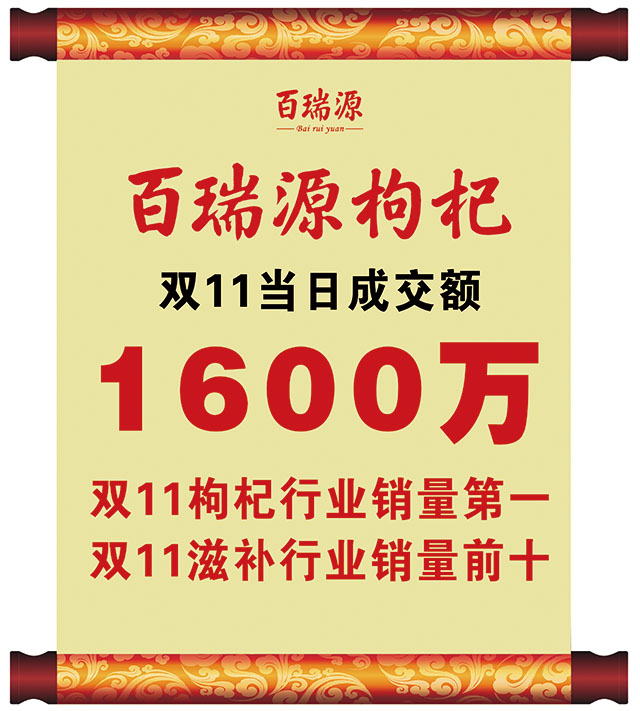 17 [Keywords] export tax rebate
On November 7, 2017, Ningxia first overseas tourists shoppingdeparture tax rebate business successfully handled. Bairuiyuan Ningxia goji berryindustry as the only one with tax rebate eligible enterprises to achieveNingxia first tax rebate business.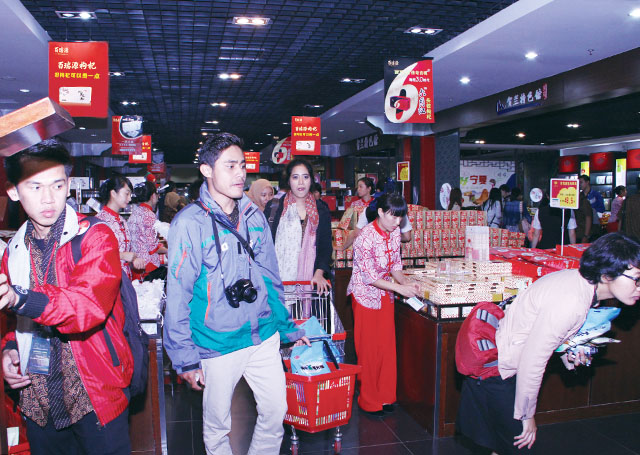 18 [Keywords] State Council quality work assessment team
On the afternoon of December 20,2017, the State Council Quality Work Assessment Team and his entourageinvestigated and researched the quality and safety work of Bairuiyuanaccompanied by leaders of Regional Bureau of Quality Supervision, including LuoWanli and Director Pan Duojun. Through the construction of product qualitytraceability system, To create the safety of the tongue to the field, has beenfully affirmed and highly praised research group and his party.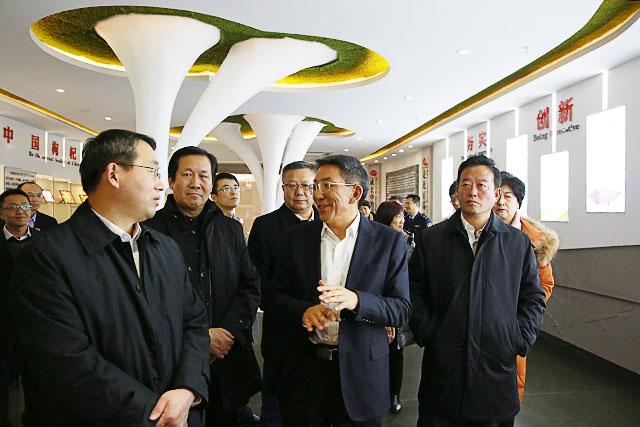 19 [Keywords] Ministry of Agriculture typical case
On December 18, 2017, Bairuiyuanwas selected as the typical representative of the Ministry of Agriculture dueto its strong brand and exemplary motivation. Bairuiyuan, as the only typicalrepresentative of "one company, one industry" in the Chinese goji berryindustry, was selected.